President/Chairman of Council, CIBN, Dr. Uche Olowu.
Following ongoing reforms, especially in the agricultural sector of the Nigerian economy, the Chartered Institute of Bankers' of Nigeria (CIBN), has predicted higher Gross Domestic Product, GDP, growth in the year 2020.
President/Chairman of Council, CIBN, Dr. Uche Olowu made the forecast at a forum organised in Lagos by the Finance Correspondents Association of Nigeria ,FICAN, with the theme; 2020 Economic Outlook.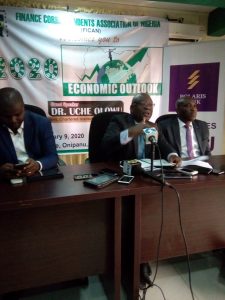 He called for greater investments in the economy while urging the government to explore more opportunities in the export of agricultural products.
Dr. Olowu noted that additional investments in the sector will help boost the nation's dwindling foreign reserve as he foresees a spike in the Gross Domestic Product (GDP) in the new year.
He also underscored the importance of Private Sector participation in rebuilding the country's economy for optimal growth.
"The only way government can boost the country's economic growth is to be market oriented, by allowing the private sector to do more." He said.
A cross section of FICAN members at the forum.
" There is no way the public sector alone can sustain the rebuilding of this economy, we need a level playing field, a healthy competition that will be fair, transparent and open to rule of law," the CIBN boss added.
Dr. Olowu said access to credit will play a key role in the journey to economic growth and development of the country in the year.
To this end he challenged the financial industry to be creative enough to explore untapped areas in the economy.