The Nigerian Maritime Administration and Safety Agency (NIMASA), has been in the forefront of positive transformation of the nation's economy through its regulatory and promotional activities , particularly in the last one year.
The Director General of the Agency, Dr. Dakuku Peterside, who disclosed this at a forum in Lagos, said the Agency symbolizes the needed change in the country.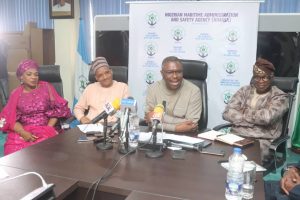 Dr. Peterside identified the Final Billing System for Freight Charges, Improved Maritime Safety, Security, and Domain Awareness, as well as other transformations in the country's maritime administration as the major economic drivers.
Other critical changes in the sector, according to NIMASA boss, are the renewed capacity building drive through implementation of a five-year cabotage cessation plan, and the reorganization of the Nigerian Ship Registry.
He said the changes introduced by his administration has led to improved service delivery and customer satisfaction.
Director-General, NIMASA, Dr. Dakuku Peterside (middle); flanked by Executive Director, Operations, Engr. Rotimi Fashakin (second right); Executive Director, Finance and Administration, Dr. Bashir Jamoh (second left), Director, Admin and Human Resources, Hajia Aisha Musa (left), and Director, Special Duties, Reform Coordination and Technical.
In his words, "With the Final Billing System, we have put an end to double billing, over-billing, and protracted billing, the system ensures closure of all vessel billing transactions within two weeks after departure,"
"With the use of satellite surveillance technologies, in combination with intelligence systems, we are able to identify, with a consistent 365 days and a five-year profile, all vessels that visit our Exclusive Economic Zone." Dr. Peterside noted.
According to the NIMASA boss, the agency has launched a five-year Cabotage cessation plan beginning from 2021, to stop the grant of Cabotage waivers and ensure full implementation of the Coastal and Inland Shipping (Cabotage) Act 2003, which came into force in 2004.