The Nigeria Customs Service (NCS) Federal Operations Unit (FOU) Zone B, under the leadership of Comptroller Albashir Hamisu has reported huge gains in Anti-smuggling activities in the month of May 2021.
Comptroller Hamisu told newsmen in Kaduna recently that in line with the responsibilities conferred on it by the provisions of the Customs and Excise Management Act (CEMA) Cap C45 of 2004, the Unit made One hundred and One (101) seizures valued at N194.57m within a period covering May 1 to June 3, 2021.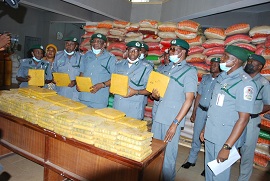 According to the report, seven hundred and fifty three (753) bags of 50kgs of foreign rice, six hundred and forty six (646) cartons of foreign spaghetti and macaroni, three hundred and fifty five (355) cartons of foreign soap and one hundred and twelve (112) kegs of 25 liters of foreign vegetable oil were among the items seized.
The Comptroller also presented one hundred and three (103) parcels of Indian hemp (Cannabis), fifteen (15) units of vehicles and six (6) units of motorcycles (means of conveyance) among other seizures made.
Comptroller Hamisu appealed to members of the public and stakeholders to cooperate with the Service in exposing illegal activities and helping in the fight against smuggling for the benefit of the country.