Chairman Ejigbo Local Government Area, Hon. Monsurudeen Bello.
The poor state of roads and the attendant traffic gridlock in Ejigbo area of Lagos state is a source of worry for the local Government Chairman, Monsurudeen Bello..
Ejigbo Council staff and delegation of AGPMPN
Bello disclosed this in his office, at the  Ejigho local council Secretariat, while receiving a delegation of the Association of General and Private Medical Practitioners of Nigeria, AGPMPN, led by its new chairman, Dr. Tunde Obajimi.
The council chairman identified a structurally defective drainage system, jointly constructed by the Federal and state governments, along the NNPC and Jakande axis, as the major cause of flooding, broken roads and traffic jams in the area.
NNPC Junction along Jakande – Ejibo road
"As at when they were about to construct the tunnel in 2012, we approach them to let them know that the volume of water to pass through the tunnel would be too heavy for the size, but they insisted the design from Abuja cannot be changed" Bello said.
"The practice of engineering is such that you do a design in your office then go to people in the target environment for their input, you cannot understand the flow of water better than someone living in that area." He added
He called on the Federal and Lagos state governments to exhume the narrow drainage pipe completely and reconstruct a new one with three "man holes" so that water can flow freely.
Bello also appealed to the Federal and Lagos State governments to help expand roads in the Council area as traffic has been diverted from airport road to the axis.
The council chairman blamed the poor states of roads in Lagos generally on the rush to make it a megacity.
In his words, "if you go to other states they construct bridges within a tenor of 8 years but in Lagos we want to construct 10 bridges in 4 years, there's no way other roads will not suffer"
While responding, Chairman of AGPMPN, commended Bello for his outstanding achievements in the Council and pledged the association's commitment to support the efforts of the Council especially in the area of health care delivery.
Chairman of AGPMPN, Dr. Tunde Obajimi.
The activities of the local Governments definitely affects health which of course brings us to the need to relate with them so that we know what they're doing and how we can help bring improvement." He said.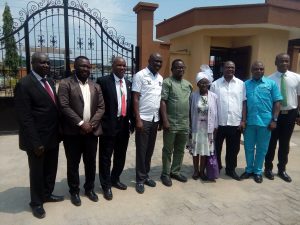 AGPMPN delegation
The medical practitioners' association also promised to offer free medical services to the people of the area through the council.