By Barnabas Esiet.
The Insurance arm of African Risk Capacity, (ARC), has made available the sum of US$2.13million to the Government of Madagascar as part of efforts to mitigate the impact of anticipated losses following crop failure in the just concluded farming season.
ARC is a specialized agency of the African Union launched in 2012 as an initiative of African countries to improve their disaster and risk management as well as their resilience to climate change and disasters.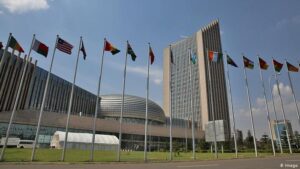 African Union Secretariat.
In a statement, ARC said "the African Union and the African Development Bank jointly handed over the symbolic cheque for the sum of US$2,126,803.00 to the Government of Madagascar to cover anticipated losses to livelihoods of its vulnerable population."
The ARC payout is the outcome of drought insurance taken by the country with the support of the African Development Bank through the Africa Disaster Risk Financing (ADRiFi) Programme, which covered 100% of the 2019/2020 insurance premium for sovereign drought risk transfer for the Republic of Madagascar.
"The payout will be implemented to assist the lives and livelihoods of 600, 000 vulnerable population affected by the drought thereby preventing them from resorting to negative coping mechanism including eating their seeds, selling farm implements, internal displacement and forced migration." The statement read.
The statement further explained that the funds will be used to implement a specific drought response plan developed by government prior to the start of the 2019 season with support from ARC.
Madagascar is prone to climatic shocks and weather variations including drought, floods and Tropical Cyclones. These shocks have worsened the poverty and food insecurity situation throughout the country over the year.
In March 2017, over 70 people were reported dead and at least 183 injured when a cyclone passed through the country. In January 2018, another cyclone hit Madagascar's east coast killing at least 50 people.