-by our correspondent.
The production of one of Nigeria's staple foods, rice, is short of 500,000 metric tons(MT) to meet the seven million capacity required to meet annual local demand of the commodity.
The Federal Ministry of Agriculture and Rural Development (FMARD) disclosed this in a statement signed by the Deputy Director of Information, Eno Olotu.
According to the statement, while receiving agricultural inputs from the Japanese International Cooperation Agency (JICA), the Director of Federal Department of Agriculture, Karima Babaginda, said the country would soon close the gap and meet the seven million metric tons production capacity required to attain self-sufficiency, noting that the support from the Japanese agency would help scale up rice production in Nigeria from enhanced harvest of the produce in this year's farming season.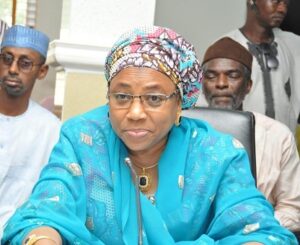 Director, Federal Department of Agriculture, Karima Babaginda
"With the support of JICA and other donor agencies, Nigeria would not only be self-sufficient in rice production but would soon be a major exporter, being the largest producer of rice in Africa currently," she added.
The Chief Representative of JICA in Nigeria, Nakagawa Takayuki, said 1,500 small scale rice farmers in Kwara, Nassarawa, Niger, Bauchi, Taraba, Kaduna, Kano, Jigawa and Kebbi states would benefit from the  agricultural inputs provided for the dry season rice farming.