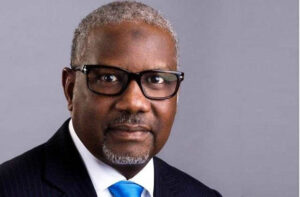 President of MAN, Engr. Mansur Ahmed.
By Barnabas Esiet.
The Manufacturers Association of Nigeria, MAN, says high cost of borrowing slowed down manufacturing activities in the country in the second half of 2019.
In a report appraising economic activities for the year, MAN noted that interest rate charged to manufacturers during the first half stood at 20 percent, 1.4 percentage point lower than 21.1 percent recorded in the same half of 2018 and lower by 2.25 percentage point when compared with 22.5 percent recorded in the preceding half.
According to the report, manufacturers in the country only had marginal confidence in the economy during the year under review as CEOs Perception Index computed from a survey of over 400 manufacturing companies in Nigeria for the 4 quarters of 2019 averaged 51.5 points.
"In the second half of 2019, manufacturing capacity utilization declined marginally to 59.4 percent, the decline over the review period was attributed to reduction in the purchasing power of the populace on account of the increasing inflation rate experienced in the country particularly in the second half of the year." The statement read.
Assembly Plant in Nigeria
Foreign direct investment, FDI, in the manufacturing sector also fell to US$153.77 million in the third quarter of 2019 from US$230.34 million recorded in the corresponding period of 2018; thereby indicating US$76.6 million or 33 percent decrease over the period.
The report noted that at the end of the second half of 2019, an estimated 1.65 million historical cumulative jobs were created in the manufacturing sector following data generated from various surveys conducted by MAN over time.
A cross sectorial group observation shows Food Beverage and Tobacco accounted for most of the jobs created in the manufacturing sector.
In the period under review, a total number of 1,308 jobs were also lost in the sector, representing a decrease of 1,989 job losses when compared with 3,297 jobs recorded in the preceding half.
Manufacturing plant in Nigeria
The report noted that electricity supply to the industry has improved lately particularly with the privatization of the power sector, leading to marginal improvement in hourly supply and number of outage per day.
Output growth in the African continent estimated at 2.4 percent in 2019 by the World Bank, is expected to increase to 2.9 percent and 3.1 percent in 2020 and 2021 respectively.
On the global scene, MAN said The World Bank estimated output growth fell to 2.4 percent in 2019, the slowest pace since the global financial crisis, but is expected   to rise to 2.5 percent in 2020 and 2.6 report attributed the fall to persisting global trade tensions; softening of international manufacturing activities; and substantial financial pressure in some large merging markets economies.