Former Chairman of T & C Group, M.A.N, Ikpong Umoh.
Available data shows that the global cosmetics industry, driven by innovative products, is one of the fastest growing with a steady compound annual growth rate, CAGR, of 4.5℅ between 2013 to 2018.
The sector's CAGR, which is expected to increase by 0.7℅ in the period 2019 to 2025, provides an opportunity for the Nigerian cosmetics industry with an annual market value of N500bn.
According to the immediate past Chairman of the Toiletries and Cosmetics, T & C, Group of the Manufacturers Association Of Nigeria, M.A.N, Ikpong Umoh, the huge potential of the subsector in Nigeria is, however, threatened by a number of challenges.
A cross section of guests at the T & C Group 2019 AGM
Some of the challenges he identified include; multiple taxes, restrictive local standard, forex prohibition on raw materials import and government's global listing policy.
"We strongly suggest that the Federal Government should limit foreign products in shops to about 20℅ and locally manufactured products should be 80℅ … to preserve jobs, forex and increase capacity utilization." He said.
At the Group's 2019 Annual General Meeting, AGM, Umoh reiterated the significance of the sector in generating employment and revenue for all tiers of government in the country.
"T & C is an important contributor to GDP and is capable of moving the country away from being the poverty capital of the world, if allowed to thrive the way it should." He said.
Umoh agreed that the African Continental Free Trade Area would benefit Small and Medium scale Enterprises in the country if the identified challenges are promptly addressed.
"Nigerian SMEs have the potential to dominate this market but this feat can only be achievable if the internal encumbrances and aberrations are removed." He noted.
Stellarchem range of locally manufactured cosmetics
For his part, the incoming chairman of the group, Uchenna Okafor, promised to continue with the policy advocacy of his predecessor even with renewed vigour.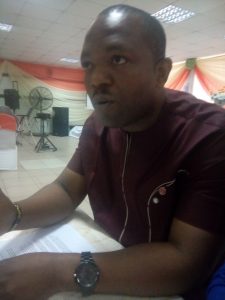 Incoming Chairman of T & C Group of M.A.N, Uchenna Okafor.
"Continuity is key, we'll want to maintain strong advocacy so as to ensure that all laudable achievements of the immediate past regime is continued." He said.