By Barnabas Esiet.
The recent demolition of the properties of the Nigerian High Commission in Accra, Ghana is not going down well with The Nigerian Association of Chambers of Commerce Industry Mines and Agriculture (NACCIMA).
Director General of NACCIMA, Ambassador Ayoola Olukanni, who this known recently noted that the act is totally unwarranted and a flagrant  violation of diplomatic and International  Law with potential negative consequences for cordial political, trade and economic  ties between Nigeria and Ghana.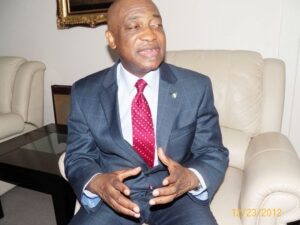 DG NACCIMA,Ambassador Ayoola Olukanni.
"The Association is of the view that the act, which is also a violation of the Vienna Convention on Diplomatic Relations on the protection and inviolability of diplomatic premises, is shocking and most unexpected from a friendly nation like Ghana." He said.
"NACCIMA is deeply concerned that an event like this is capable of hindering the economic ties between Nigeria and Ghana who are key members of ECOWAS and who play prominent roles in the private sector collaboration within the framework of the Federation of West African Chambers of Commerce and Industry (FEWACCI)." Ambassador Olukanni added.
He expressed worries that Ghana took to the destruction of the property of the Nigerian high commission now that FEWACCI is being led by Nigeria through the leadership of the president of NACCIMA, Hajia Saratu Iya Aliyu, who is working hard to expand ties among the private sector in the sub-region to overcome the negative economic impact of COVID 19.
"This is indeed sad, poisonous to business environment and Trade in West Africa, in present circumstances we call on the Government of Ghana to take action for effective, prompt and adequate compensation to the Government of Nigeria for compensation and reconstruction of the property." The NACCIMA DG noted.
President of NACCIMA, Hajia Saratu Iya Aliyu.
He also called for the resolution of the issue of Nigerian traders who have been under continued harassment in recent times, in the spirit of the ECOWAS and especially Trade Liberation in the Sub-region.