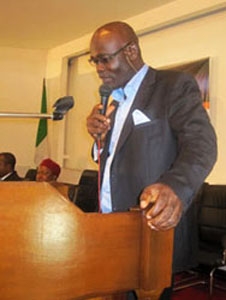 Founder, Leadership Watch, Dr. Iwuanyanwu
A non-governmental Organization, Leadership Watch (LW), in special consultative status with the economic and social council of the United Nations, has expressed solidarity with the #EndSars protesting Youths while condemning hijack of the protest by hoodlums and the excesses of the Nigerian security forces in handling the protest.
A statement signed by the founder of LW, Dr. Martins Iwuanyanwu, said the action of the youths is just, timely and long overdue.
"We wish to express our unflinching support and solidarity with the courageous Nigerian youths effort to reclaim and reset Nigeria in order to have a secured future as well as to condemn in its entirety all the EVIL of Buhari led government in Nigeria and its agencies especially the army and police as well as the sponsored hoodlum's invasion of the protesters." The statement read
"LW is in total support of the youth's action and efforts to reclaim Nigeria and to reset it for the benefit of all, the youths have our prayers and may God Almighty keep and protect them all." Dr. Iwuanyanwu said.
Leadership Watch commended the Secretary-General of the United Nations and other world leaders and Nigerians in Diaspora for their close monitoring of the unfolding events in Nigeria and their supports so far for the youths adding that more of such support is needed at this critical time in the history of NigeriaS.
Going forward LW advised the youths to eschew violence including destruction of properties in order to continue to enjoy the support of Nigerians and the world leaders. "The youths must resist every temptation to spilt or polarize its camp along the lines of ethnicity, tribe, region or religion, bearing in mind that a safe and prosperous Nigeria is good for all Nigerians." The statement read.
Dr. Iwuanyanwu appealed to the United Nations and other world leaders to send messages of solidarity to the gallant Nigerian youths bearing in mind that the freedom of Nigeria today will automatically translates to the freedom of Africa in general.
"Undoubtedly, it will practically put an end to the illegal migration to the various nations of the world by the frustrated Nigerian youths; it will also discourage unnecessary humanitarian assistance to Africa as well as curb terrorism and other vices associated with youth unemployment in Nigeria." He noted.