-by our correspondent
Thousands of disgruntled Trump supporters, incited by the President, staged a violent protest on Capitol Hill on Wednesday, breaking security protocols, to prevent lawmakers from validating the election results ahead of inauguration of President Elect, Joe Biden on January, 20.
Trump supporters occupying Capitol Hill
The rioters who overwhelm the capitol police climbed the building, breaking windows to have access to where the legislators were gathered. The Lawmakers who were in the middle of parliamentary proceedings stopped abruptly and were evacuated from the chamber to a save location after many of the armed protesters forcefully gain entry into the assembly room.
One of the rioter who was seen in the office of the House speaker, Nancy Pelosi, left a note on her desk with the inscription "We Will Not Back Down". Many of the protesters occupied the eastern and western entrance to the building while others mill around the premises. Following the shocking scene at the US Capitol, the Mayor of Washington DC promptly declared a curfew from 6pm to 6am.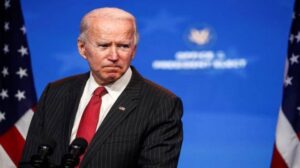 US President Elect, Joe Biden
President Elect, Biden also went on National TV to denounce the unprecedented incident calling on President Trump to call his supporters to order. "President Trump step up" he said. An unidentified woman was shot on the chest and later died while many law enforcement officers were also injured and taken to the hospital for treatment.
President Trump later appeared in a brief video recording insisting that the election was stolen from him and the protesters while urging them to go home peacefully noting that "this day will forever be remembered"
US President, Donald Trump
Many Democrats, Republicans and world leaders have tweeted to condemn the violence even as the UN Secretary General, António Guterres, has warned that the wishes of the American people, as expressed at the polls, must be respected. Former President George W. Bush, in a statement, derided the rioters, calling the scene "sickening and heartbreaking".
Speaker Pelosi said leaders of Congress have decided to resume the joint session to certify President-elect Biden's win once the Capitol is "cleared for use"
US House of Rep.speaker, Nancy Pelosi
As at the time of filling this report, more policemen have been deployed in Capitol Hill to try and quell the riot.