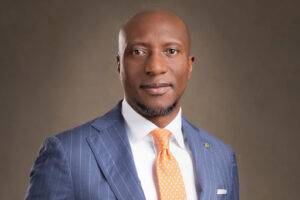 CEO NSE, Oscar Onyeama.
The Nigerian Stock Exchange (NSE) has announced the release of its 2019 Sustainability Report with the theme "Encouraging Sustainable Businesses, Promoting Inclusive Growth".
According to a statement, the report is a detailed compilation of the progress and milestones achieved by the NSE during the reporting period in line with its sustainability commitments, which were developed following the launch of its Corporate Sustainability and Responsibility (CSR) strategy in 2013.
Highlights of the Report include; increase in Green Bond listing by over N30billion, first cross border green listing of Access Bank's N15bn Green Bond following an agreement signed with Luxembourg Stock Exchange (LuxSE) and hosting the inaugural Ring the Bell for Financial Literacy in collaboration with IOSCO and WFE, among others.
Commenting on the report, the Head, Corporate Communications of NSE, Olumide Orojimi, said "the Exchange will continue to be accountable to the highest standards, constantly exploring new ways to apply sustainability practices in business operations and promote the integration of environmental, social and governance imperatives in the Nigerian capital market."
Head, Corporate Communications of NSE, Olumide Orojimi
He said the report has spotlighted the remarkable progress the local burse has made in implementing its strategic objectives with corresponding measurable impact on all stakeholder groups.
"Recognising the critical role the capital market plays in achieving the SDGs, we also pushed forward in our commitment to galvanize action towards responsible business practices and disclosures by issuing the NSE Sustainability Disclosure Guidelines and launching the Facts Behind the Sustainability Report series." Orojimi noted.
According to the NSE Spokesman, the Exchange's initiatives, amongst others, will have a far reaching impact on the practice of disclosure of non-financial activities across the private sector and further position the economy in favor of the big shift towards inclusive economic growth, driven by sustainable, responsible and impact investment.