The Founder of the National Association of Government Approved Freight Forwarders (NAGAFF), Dr. Boniface Aniebonam has again called on the federal Government to bring back the Standards Organisation of Nigeria (SON) to the nation's seaports to check the import of fake and substandard products into Nigeria.
The NAGAFF Founder made the call when the immediate past Director, Inspection and Compliance Directorate (ICD) of the SON, Obinna Manafa, alongside the new Director, Mark Dakhling, paid a visit to NAGAFF Headquarters in Lagos recently.
He said blocking SON, with a wider scope of functions, from returning to the Ports while NAFDAC officials are allowed back in the same Ports, is an act of injustice adding that "if the Government does not see the urgent need to return SON to the Ports, then there is also no need for any other Agency, with regulatory powers, except the Nigeria Customs Service, to remain in the Ports."
Dr. Aniebonam advised the management of SON to reach out to other stakeholders in the industry and people in Government to facilitate its return to the Ports in the interest of Nigerians. In his words " SON means life, because their functions have to do with the life of Nigerians and their property, for instance, fake cables have brought havoc to many lives and property in the country as a result of fire outbreaks occasioned by the substandard nature of such cables."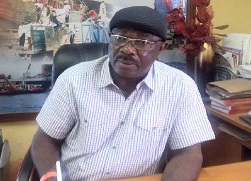 NAGAFF Founder, Boniface Aniebonam
He commended SON for its efforts in ensuring that Nigerians are protected from fake and substandard products and pledged NAGAFF's continued support in its efforts to maintain standards in all products used by Nigerians.
For their part, the immediate past Director, ICD, of SON, Manafa, and the new Director Dakhling, both urged the Association not to relent in its support to Government Agencies operating at the Ports, particularly, SON, noting that NAGAFF is a dependable ally.