-by our correspondent.
A coalition of 92 Youth Based Groups and Non-Governmental Organizations, under the auspices of Centre for Credible Leadership & Citizens Awareness, has called on President Muhammadu Buhari to immediately sack all the current serving Ministers and replace them with his choice of younger, patriotic and competent citizens who are desirous to patriotically contribute to nation building.
President Muhammadu Buhari
Spokesman of the Group, Dr. Nwambu Gabriel, told journalists at a forum in Abuja that the Ministers are not productive. "They are relaxing in Abuja dwelling on lofty ideas without being in touch with their constituents or at least create an avenue for regular engagement like periodic town hall meetings with their constituents where the genuine efforts of President Buhari could be made known to Nigerians on a one-on-one grass roots level." He said.
The coalition also called on the Senate President, Ahmed Lawan to immediately change the Principal Officers of the 9th Senate for a more result oriented legislation that would in turn impact positively on the yearnings and aspirations of majority of Nigerians.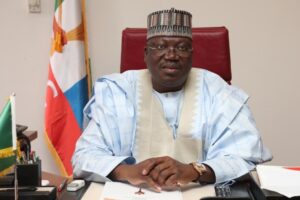 Senate President, Ahmed Lawan
"The same call goes to the Speaker of the House of Representatives, Femi Gbajabiamila, we urge him to immediately relieve the current serving principal officers/leaders of the House and appoint more competent, God fearing representatives for effective, more resourceful legislation that would bring about peace, security and development of our country in line with the desire and efforts of the President," Dr. Gabriel added.
Speaker of the House of Representatives, Femi Gbajabiamila
The Civil Society Groups exonerated security agencies over the state of insecurity in the country noting that none of the security chiefs including the Inspector General of Police and other military heads are the cause of insecurity currently ravaging the nation.