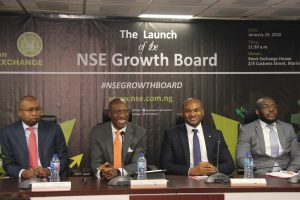 By Barnabas Esiet
The establishment of NSE Growth Board is an initiative of the Nigerian Stock Exchange to support small and medium scale enterprises (SMEs) in the country with the potential for growth.
The Chief Executive Officer of the NSE, Oscar Onyema, who disclosed this at the launch of the new platform in Lagos, explained that it would enable investors to fund high growth companies, provide SMEs the access to raise cheaper and longer-term capital and an exit option for core investors who seek to diversify their portfolio.
He said the Growth Board with an expanded list of designated advisers and value added services, is an improvement over the Alternative Securities Market (ASeM) which would soon be phased out by the local bourse.
MD/CEO NSE, Oscar Onyema.
"This platform is pivotal to our efforts in catering to a segment of the economy that hitherto has been neglected and perceived as a high risk and low reward venture by most service providers especially in relation to access to capital from financial institutions." Onyema noted.
"The traditional role of the Exchange as an enabler of capital flow from areas of surplus to deficit holds good promise for its capability to support SMEs, as access to capital is the prime challenge faced by companies that are active in the SME sector." He added.
The NSE boss also observed that despite the enormous contributions of SMEs to the Nigeria Economy, the sector is faced with many challenges ranging from inadequate infrastructure to multiple taxes.
" The reality and headwinds faced by operators in this segment are quite daunting, the economic landscape in recent years has been quite challenging for corporates with small and medium scale enterprises experiencing some of the difficulties observed in the Nigerian macro landscape." He said.
The NSE now operates the Premium, Main and Growth platforms through which different categories of companies can raise funds to grow their businesses.