-by our correspondent.
A group, Ekiti South Agenda Youth Movement Wing, has called for an end to the alleged continuous marginalisation of the Ekiti South Senatorial District in holding important Political Offices in the State.
Speaking at a Summit facilitated by Ekiti Elders Forum in Ado Ekiti recently, the group's Coordinator, Ayodele Joel Oguntuase, explained that there are Sixteen (16) Local Government Areas (LGAs) in Ekiti State divided into three (3) Senatorial Districts namely; Ekiti South, Ekiti North and Ekiti Central Senatorial Districts.
He noted with dismay that despite Ekiti South Senatorial District being the only one with Six LGAs out of the Sixteen and having the Second highest voting strength, it had tactically been schemed out of relevance in the polity and have not been able to produce a sitting Governor in the State.
Other agitators and speakers at the forum including; Jide Ojaomo, Shola Oluwasinmirin and Tamale Augustine, lend their voices, pointing out that since the creation of Ekiti State and during the nation's democractic dispensations on the 1st of October, 1996 and 1999 respectively, Ekiti North and Central Senatorial Districts have produced three Governors each in six different regimes while Ekiti South Senatorial District is yet to produce any sitting Governor.
The group insisted that, in the spirit of fairness, justice and equity, Ekiti South Agenda to produce the next Governor of the State is not negotiable while calling for the support of all stakeholders in the state to address the issue and redress the marginalisation as identified.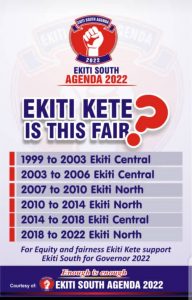 They also demanded more support and cooperation of the Council of Obas, Leaders and Stakeholders including; Politicians, Residents, Religious groups, Students, Unions, Association and Ekiti indegens in the disaporra to join the agitation for Ekiti South to produce the next Governor of the State.