-by our correspondent.
Total Nigeria Oil and Gas Limited (TNOG), an integrated energy company founded by Tony Elumelu, has acquired a combined 45 per cent interest in Oil Mining Lease 17 and related assets belonging to three international oil companies operating in the Eastern Niger Delta area of Nigeria.
Shell Petroleum Development Company (SPDC) Nigeria Limited, Total E&P Nigeria Limited and Nigerian Agip Oil Company Limited ceded 30 per cent, 10 percent, and five percent interest respectively in the lease, to TNOG.
In a statement, SPDC announced the completion of the sale of its 30 per cent interest in the OML 17 and associated infrastructure to TNOG for a consideration of $533m, noting that "the completion followed the receipt of all approvals from the relevant authorities of the Federal Government of Nigeria."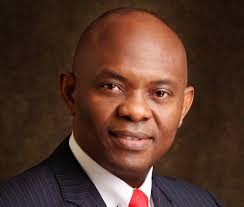 Tony Elumelu
OML 17 has a current production capacity of 27,000 barrels of oil equivalent per day and, 2P reserves of 1.2 billion barrels of oil equivalent, with an additional 1 billion barrels of oil equivalent resources of further exploration potential.
"A total of $453m was paid at completion with the balance to be paid over an agreed period. SPDC will retain its interest in the Port Harcourt Industrial and Residential Areas, which fall within the lease area,"  SPDC said.
The Chairman of Heirs Holdings, Elumelu, said, "The acquisition of such a high-quality asset, with significant potential for further growth, is a strong statement of our confidence in Nigeria, the Nigerian oil and gas sector and a tribute to the extremely high-quality management team that we have assembled.
TNOG Oil and Gas is a related company of Heirs Holdings Limited and Transnational Corporation of Nigeria Plc, both of which have Elumelu as chairman.
Heirs Holdings is a leading pan-African investment company. Its investment portfolio spans the power, oil and gas, financial services, hospitality, real estate, and healthcare sectors, operating in twenty-three countries worldwide.