by Barnabas Esiet
The Governor of Lagos State, Babajide Sanwo-Olu, has asked Lagos residents to be law-abiding as the State can only prosper in an environment of peace and security.
Sanwo-Olu made the plea at the passing out parade of the 2020 graduating participants of the Lagos State Law Enforcement Training Institute (LETI).
The Deputy Governor, Dr. Kadri Hamzat, who represented the Governor, said the current administration in the state is aware of the need for an effective security system that promotes a peaceful and prosperous society.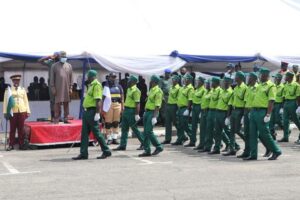 "Our administration recognises the need for an effective security system as sine-qua-non to a peaceful and prosperous society, this is why Security and Governance represents a key pillar in our administration's T.H.E.M.E.S agenda." The Governor said.
According to Sanwo-olu, effective security and safety of lives and property can only be achieved with a qualitative blend of men and materials.
The Governor noted that his administration established the Law Enforcement Training Institute (LETI) for personnel to acquire expertise in maintaining peace in the State at all times using state-of-the-art equipment and cutting edge knowledge.
"This became necessary in order to further enhance the capacity of the State's law enforcement outfits, such as the Lagos State Traffic Management Authority, (LASTMA), Neighbourhood Safety Corps and Vehicle Inspection Services among others." He added.
The Lagos State Governor commended the law enforcement officers for their doggedness, courage and tenacity at all times, especially during the recent upheavals that engulfed the whole nation and the State in particular while charging the graduating officers to discharge their duties with all due diligence and professionalism, refraining from any act that would violate the rights of citizens.
For his part, the State Attorney-General and Commissioner for Justice, Moyosore Onigbanjo (SAN), urged the graduating law enforcement officers to be polite, decent, humane and firm in the discharge of their duties towards achieving a peaceful environment in the state.