Telecommunications Companies in Nigeria incurred N1.7tn as operating cost in 2021, showing an increase of N265.25bn when compared to N1.4tn recorded as operating cost in 2020.
The Nigerian Communications Commission (NCC) disclosed this in its 2021 Subscriber/Network Data Annual Report.
According to the report, this represents an increase of 18.74 per cent from the figure reported in 2020.
"Total operating cost for the mobile network operators increased from N1, 395,000,000,000 in 2020 to N1, 658,235,000,000 at the end of 2021." The report read in part
Earlier this year, telecommunication providers under the auspices of the Association of Licensed Telecommunications Operators of Nigeria (ALTON) decried the rising cost of diesel in the country.
The Association, through its president, Gbenga Adebayo, then called on the Government to intervene warning that, if not checked, the trend would negatively affect their cost of operations.
Adebayo underscored the need for Government intervention to save the sector as operators may be forced to consider hike in service charges.
"Diesel is now very expensive, from N250 to over N700. All network planning, operational expenses, and planned projection for the year is based on the diesel prices. Today, you know the implication of that; cost has gone up." He said.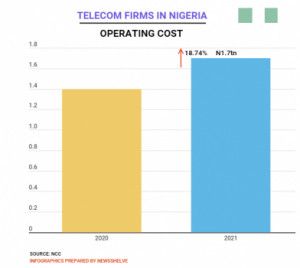 In his words:  "We will be approaching the government for some form of intervention but we are mindful of the high cost of living and the implication of this on the economy and citizens. And so, we are not going to talk about direct price increases."