President of M.A.N, Engr. Ahmed Mansur
The latest Manufacturers Chief Executive Officers, CEOs, Confidence Index (MCCI) released by the Manufacturers Association of Nigeria (MAN) has shown that not much has changed in the supply of forex to the manufacturing sector for the import of raw materials, and other manufacturing inputs, that cannot currently be sourced in the country.
Most Nigerian manufacturers can only source forex from the parallel market at very high exchange rate, which makes their products less competitive compared with the imported ones owing to high import bills for raw-materials and machinery.
The MCCI index also revealed that despite efforts by government to encourage productivity in the country, deposit money banks are still lending to the sector at double digit interest rates.
Manufacturing activities in Nigeria
The manufacturers underscored the need for the country's apex bank to review guidelines of the various development funds to ensure that the terms and conditions are good enough to attract borrowing from the local industrial sector.
"It is therefore imperative that the Association sustains the advocacy for policy measures that will lower the cost of borrowing to increase productivity and competitiveness of the sector while partnering the Federal Government to interrogate the performance of the various single digit interest rate funding windows available for the real sector of the economy." The release read.
Multiple taxes and levies also constitute major setback for the manufacturers who agreed that these levies depress production in the sector.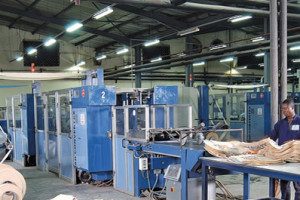 Manufacturing company in Nigeria
According to the release, "Record shows that manufacturers pay over 30 different taxes, levies and fees to Agencies of the Federal, State and Local Governments on account of increased revenue target, consequently, there is the need to streamline the observed multiplicity of taxes and ensure that only approved taxes/levies/fees are charged."
The MCCI is an index created by the Manufacturers Association of Nigeria to measure the economy on quarterly basis.
MCCI deploys a set of Diffusion Factors including; Current Business Condition, Business Condition for the next three months, Current Employment Condition, Rate of Employment, Employment Condition for the next three months and Production Level for the next three months, to measure  quarterly perception and confidence of manufacturers in the economy.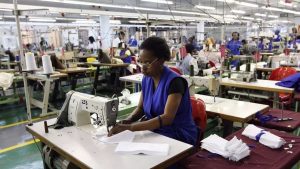 Garment factory in Nigeria
In addition to the set of Diffusion factors form which information is generated, the index also measures general macroeconomic ambience in terms of Foreign Exchange, Lending Rate, Credit to the manufacturing sector, government Capital Expenditure and business operating environment issues such as Over-regulation, Multiple taxes/levies, Access to sea ports, Local raw-material sourcing, as well as Government's patronage of Nigerian manufactured goods and Inventory.