-by our correspondent.
New rules worked out by the Technical Committee on Premium Motor Spirit (PMS) Pricing Framework have recommended among other things, a single forex window for all petroleum products importers into the country including the Nigerian National Petroleum Corporation (NNPC).
The committee also recommended the issuance of monthly pricing guide by the Petroleum Products Pricing Regulatory Agency (PPPRA).
The technical committee headed by Onochie Anyaoku, was inaugurated on December 14, 2020 by the Minister of Labour and Employment, Dr. Chris Ngige. The terms of reference of the committee include producing a viable framework for Petrol price variation.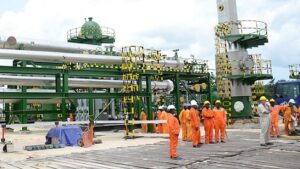 NNPC
Anyaoku who tendered the report of the committee to the Federal Government in Abuja, said the discriminatory exchange rate applied in the sector exposed Nigerians to possible exploitation even as the charges by Nigeria Ports Authority (NPA) and Nigerian Maritime Administration and Safety Agency (NIMASA) also led to the price hike of petrol in the country.
The committee recommended that the charges of the regulatory agencies, which are currently collected in US dollars, should be paid in naira to lessen pressure on the local currency and facilitate operations of petrol importers.
"On lightering expense, about 70 per cent of the ship to ship happen in the Lagos area, NPA and NIMASA charges are paid in U.S. dollars, marketers are compelled to source forex from the parallel market to pay the charges, thereby leading to higher pump price, this is responsible for the lightering expense of about N4 per litre." The report read.
The report recommends that the PPPRA should convey periodic meetings with Petroleum Products and Marketing Company (PPMC) and other importers to determine actual costs of supply as an interim solution to the confusion in the downstream sector adding that the relevant labour unions in the country should witness the determination of prices at periodic meetings with other stakeholders.
The committee also mandated NNPC and all importers to make import data available to the PPPRA to facilitate informed decisions on price guide.
Meanwhile, the Nigeria Labour Congress (NLC) and the Nigeria Union of Petroleum and Natural Gas Workers (NUPENG) have said they are studying details of the new policy and would make their positions known soon.