By Sam Kayode
Report says the Islamic State of the West African Province (ISWAP) under the new leadership of Abu-Musad Albarnawy has taken over all territories under the control of late Abubakar Shekau in a major revenge onslaught against the former Boko Haram leader.
The fighters, it was also gathered, have arrested 30 top commanders loyal to the late Boko Haram leader.
According to the report, the Commanders include: Abdul Bash, Commander Parisu, Abu Mujaheed, Commander of Sabil Huda, Mala Ali, Commander of Farisu, Amir Hassana, Commander Garin Dambe, Malam Bako, Commander Hizba, Amir Halid, Commander Njimiya Falluja, Commander Garin Mala, Abu- Fatima, Commander, Gwashke, Kaka BK, Commander Garin Abu Asmau among others.
Others are Alai Bukar, Commander Mina Ngawri, Abu-Ubaida, Commander Jungle Gabra, in Pulka, Amir Abdulrahman Commander, Gobara, Abu Muhammad, Commander Alava, Ali Shara, Commander Yuwe Hanyan Bama, Amir Huzayfa Commander Yuwe Hanyan Welcome, Abubakar Sarki, Commander, Yuwe Hanyan Konduga, Ibn Abbas, Commander Barin Bulla Yaga, Ali Ngule, Commander Madara Mountain.
They also include Ummati Mai Shayi, Commander Madara Mountain, Mala Musa Abuja, The Chief Bomb Maker, Mallam Bana Sharra, Chief Judge to Shekau faction, located at Garin Mala Hassan, Baba Dr. Konduga, Chief Medical Doctor, Alava Road, Ma'azu Dan Lokodisa, The Chief Prison Officer, Alai Abba, the Caretaker of Women, children, Mala Musa, Chief Mechanic Officer, located at Parisu, Abu Zaid, Chief Bomb maker, located at Parisu, Abu Aisha Special Clearance operations Unit, Fairs, Amir Okasha, Bomb Timer, Farisu and Amir Awana among other terrorists.
Impeccable intelligence sources within the North-east war theatre however revealed that ISWAP fighters in about 50 gun trucks and dozens of motorcycles stormed Sambisa forest recently forcing Boko Haram Commanders loyal to Shekau to surrender or face instant execution.
This development, according to the report, came after Abu-Musad Albarnawy, who had gone underground for a while now, was re-appointed as the new leader of ISWAP in the North east war theatre by the ISIS leadership which has become the major source of strength for the insurgents.
"The ISWAP stormed Shekau's camp's general area following massive protests against his leadership style after he had eliminated some top Boko Haram Commanders including Abu-Fatima, his Chief of Staff who doubled as the Operation Commander within the past one month".
The ISWAP finally resolved that with all the mistakes, Shekau had begun derailing against the main cause they had chatted for themselves and that it was time for him to be taken out by force of arms.
Albarnawi, who claimed he had received directives from the ISIS, maintained that he had been designated by the Amir al Muminin (the IS Caliph) to take over and coordinate all activities of the insurgents under one umbrella for easy movement of funds, weapons and materials.
"The ISWAP and Boko Haram have been engaged in several infighting for superiority among factions resulting in the elimination of dozens of Boko Haram fighters from both sides within the past five years", the report noted.
It is believed that three to four factions of Boko Haram may be existing between Nigeria, Niger and Cameroon and these came about as a result of the dictatorial tendencies of Shekau who had survived many attacks and wounds only to bounce back into reckoning in the airwaves and tubes.
In December 2020, the ISWAP had earlier declared all Boko Haram also known as JAS fighters wanted, forcing most of them to flee Lake Chad, after they reportedly attacked an ISWAP position, took their women and looted their weapons.
In a conciliatory message after assuming office, Albarnawy called on all bandits and offenders to repent and insisted that he is ready to give the headship of the organization to his predecessor if the latter repents from his sins. He also came with new policies to work with all Jihadists in the alleged IS West Africa control Territory North East Nigeria.
How Shekau Lost Out In The Attack:
Intelligence sources revealed that "ISWAP top terrorist, Baana Duguri, may have informed commander Modu Sulum that Shekau had been taken out after his camp was surrounded as a result of a top class tip and the leader with his team started fighting back.
"Obviously shooting ensued between the two factions because Shakau's men were desperate that he was not to be taken alive. Shekau detonated a suicide bomb and killed himself when he observed that the ISWAP fighters had cornered and indeed wanted to capture him alive."
"It was bloody as the two sides also lost some fighters during the shooting. Even yesterday, ISWAP was pursuing Abu Shekau and he Shekau discarded his cap and ran but today the pursuit ended and he's finally killed."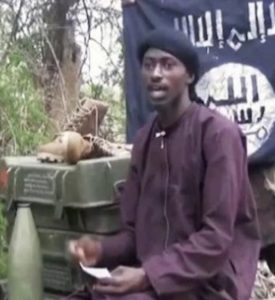 New ISWAP Leader, Abu-Musad Albarnawy
Sulum and some other commanders were said to have been rejoicing over the death of Shekau, adding that few members who had fed up with his style but afraid to speak out have started returning to their houses after the news.
Meanwhile the waiting game continues to confirm if the Shekau side will announce a new leader entirely or someone with a sub-title Shekau who had resurrected many times will be allowed to resurrect again.
*culled from Metro watch