-by Barnabas Esiet.
A total of N13.59 trillion naira (tn) appropriated by the Nigerian legislature for expenses in 2021 has been approved by President Mohammadu Buhari who signed the bill into law on Thursday, in the presence of Vice-President Yemi Osinbajo; leaders of the National Assembly and other members of the Federal Executive Council.
Out of the total budget, about N3tn or 20.07% would be used to service the country's outstanding debt obligations.
The National Assembly last Monday passed the appropriation bill, altering the total estimates from the proposed N13.08 trillion naira to N13.59trillion naira, representing an increase of over half a billion naira.
The President, who did not reveal much detail about the budget said he was mindful of the alterations made by the legislators to the original proposal noting that he would study the changes and, where necessary, approach the lawmakers with a request for amendment, virement or other necessary action.
President Muhammadu Buhari signing the 2021 Appropriation Bill into law
"The 2021 Budget that I have just signed into law provides for aggregate expenditures of N13.58tn, representing an increase of N505.61bn over the initial executive proposal. The increase, however, includes the N365bn provision for up scaling the Nigeria Social Investment Programme, which I requested for after laying the budget before the legislature." He said.
"The details of the budget as passed by the National Assembly, and signed into law by me, will be provided by the Minister of Finance, Budget and National Planning, subsequently," The President added.
President Buhari noted that in calculating the 2021 budget, his administration deliberately chose to pursue an expansionary fiscal policy. " I mentioned during the presentation of the 2021 Appropriation Bill that we intend to use the budget to accelerate our economic recovery process, promote social inclusion and strengthen the resilience of the economy, as you are all aware, our economy recently lapsed into its second recession in four years," he noted.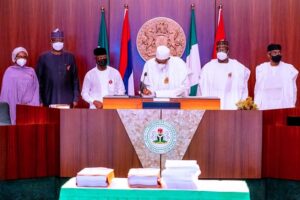 President Buhari and Vice President Osinbajo at the national assembly 
As a deficit budget, the President who is expected to send in the specific borrowing plan to the National Assembly said all borrowings will be judiciously spent. Speaking on the specific borrowing plans to be forwarded to the National Assembly and the use of over N3tn to service debts, the President of the Senate, Ahmed Lawan, and the Speaker of the House of Representatives, Femi Gbajabiamila, both pleaded with Nigerians to focus on what the loans would be used for.
They both agreed that loans are indispensable to augment revenue shortfall and assured Nigerians that the National Assembly would see to it that all loans are used for the projects they were obtained for.
The implementation of the new budget is expected to commence by January 1, 2021 to ensure the continuation of the January-December budget cycle.