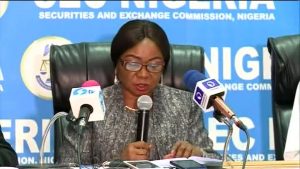 The Acting Director General of the Securities and Exchange Commission, SEC, Mary Uduk, says the commission is not out to prosecute any investor who comes forward to regularize multiple subscription accounts before December 31, 2019 forbearance deadline.
Uduk said such investors should not entertain any fear of prosecution as the Commission is only interested in increasing the trading float and ensuring that investors in the Nigerian market reap the benefits of their investments.
She noted that The forbearance window for shareholders with multiple subscriptions has been extended one year from the December 31, 2018 previous deadline to December 31, 2019.
Uduk also asked investors to take advantage of on-going e-dividend registration to reduce lot of unclaimed dividends as well as increase liquidity in the capital market and the economy.
She said since the E-Dividend registration exercise commenced on November 23, 2016, the Commission has so far mandated a total of 2.4million accounts