Airtel Africa, a leading provider of telecommunications and mobile money services, with a presence in 14 countries across Africa, has announced the signing of an agreement with The Rise Fund.
Under the deal, the global impact investing platform of leading alternative investment firm TPG, will invest $200 million in Airtel Mobile Commerce BV (AMC BV), a wholly owned subsidiary of Airtel Africa plc.
In a statement, the Group said AMC BV is currently the holding company for several of Airtel Africa's mobile money operations, and is now looking to own and operate the mobile money businesses across all of Airtel Africa's fourteen operating countries. The Transaction values Airtel Africa's mobile money business at $2.65 billion on a cash and debt free basis.
The Rise Fund will hold a minority stake in AMC BV upon completion of the Transaction, while Airtel Africa will continue to hold the remaining majority stake subject to customary closing conditions including necessary regulatory filings and approvals, as necessary, and the inclusion of specified mobile money business assets and contracts into AMC BV.
Airtel Africa's services include; mobile wallet deposit and withdrawals, merchant and commercial payments, benefits transfers, loans and savings, virtual credit card and international money transfers.
Mobile money services are available across the Group's 14 countries of operation, however in Nigeria the Group offers Airtel Money services through a partnership with a local bank and has applied for its own mobile banking licence. It is expected that all mobile money operations will be owned and operated by AMC BV.
"Airtel Africa Group's mobile money business benefits from strong network presence with core telecom business through the extensive distribution platform of kiosks and mini shops as well as dedicated Airtel Money branches supplementing extensive agent network, to facilitate customers' assured wallet and cash." The statement read.
According to the statement, in this year alone the Group has added partnerships with MasterCard, Samsung, Asante, Standard Chartered Bank, MoneyGram, Mukuru and WorldRemit to expand both the range and depth of the Airtel Money offerings and to further drive customer growth and penetration.
The statement also noted that profits before tax in the full year ending 31 March 2020 and the value of gross assets as of that date, attributable to the mobile money businesses were $143.4 million and $463.2 million, respectively.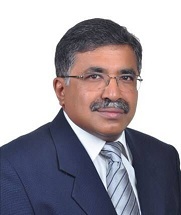 CEO Airtel Africa, Raghunath Mandava
The CEO of Airtel Africa, Raghunath Mandava, said the company has substantial market potential for mobile money services to meet the needs of the tens of millions of customers in Africa who have little or no access to banking and financial services commented: "With today's announcement we are pleased to welcome The Rise Fund as an investor in our mobile money business and as a partner to help us realise the full potential from the substantial opportunity to bank the unbanked across Africa."
For his part, a Partner at TPG, Yemi Lalude, who leads Africa investing for The Rise Fund welcome the new deal while looking forward to working with Airtel Africa. "With this investment in Airtel Africa's mobile money operations, we are excited to expand The Rise Fund's global fintech portfolio and continue to deepen our focus on improving financial inclusion in Africa and around the world." He said.