-by our correspondent.
The Manufacturers Association of Nigeria (MAN) has decried the decline in the industrial sector owing to a number of factors that befell it in the year 2020.
President of MAN, Mansur Ahmed, told journalists at a forum in Lagos that the manufacturing sector was crippled in 2020 because of the COVID-19 pandemic and the hijacked EndSARS demonstration, which placed immense pressure on the social and economic structures of the economy, among other issues.
President of MAN, Mansur Ahmed, addressing journalists at a forum in Ikeja-Lagos office
"Significant amongst the challenges faced by manufacturers are difficulty in accessing forex to procure raw materials not locally available; high cost of electricity/power; high cost of transportation; low demand of commodity; difficulty in accessing funds; regulatory Issue from numerous regulatory agencies; poor port administration and unavailability of raw materials; policy somersaults, but to mention a few." Ahmed noted.
He said the implication of the challenges is that the attainment of the sector's full potential of massive job and wealth creation was impeded during the year under review.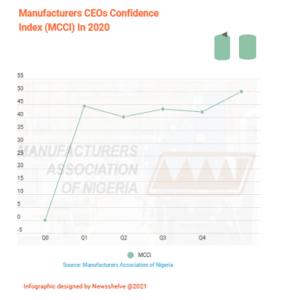 According to the MAN President, the Association's quarterly research shows that aggregate Manufacturers CEOs Confidence Index (MCCI) oscillated under the 50 neutral points at; 44.4 points in Q1; 40.2 points in Q2: 43.3 points in Q3; and then 42.06 in Q4 2020.
The trend, he said, is a strong indication that the manufacturing sector is indeed gasping for breath and the confidence of manufacturers in the economy in the whole of 2020 waned.
Ahmed called on the government and relevant stakeholders to approach the new year more pragmatically and ensure that the Nation's productive capacities are deliberately enhanced.
.