-by Barnabas Esiet
Nigeria will not be able to effectively resolve the ongoing herder-farmer crisis across the country without a reliable database on animal production.
The co-founder and CEO of Nigeria's first online livestock platform, Livesstock247.com, Ibrahim Ahmadu, said this during a curtsy visit to his office in Lagos by the Nigerian Association of Agricultural Journalists (NAAJ).
According to the Agribusiness expert, a functional livestock identification system and database would facilitate crime detection and help in identifying among other things; each livestock, the owner, and their movements. "Nigeria does not capture data on animal production and movements even as the federal Ministry of agriculture is relying on estimates. The last time a survey was carried out was in 2016 and that was based on past projections."
CEO, Livesstock247.com, Ibrahim Ahmadu
Ahmadu decried the avoidable crisis which is threatening the unity of the country noting that 'hate and arrogance' is frustrating efforts to find solution. "Hate in the sense that  other tribes detest anything cow and stereotype the livestock trade based on ethno religious reasons while arrogance on the part of the herders who feel that they know it all and should not be told how to run their business".
He said part of the problem emanated from the agreement signed by the Abdulsalami Abubakar's administration in 1998 allowing international trans-human pastoralists from the shores of the Atlantic in the Gambia to move through 15 countries in West Africa including Nigeria.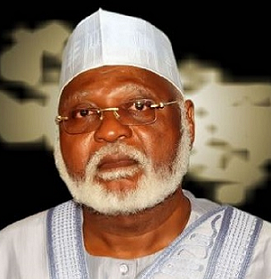 Former Nigerian Leader, Abdulsalami Abubakar
Ahmadu called for a ban on open grazing and nomadic pastoralism in Nigeria. He also advocated an amendment of the ECOWAS trans-human agreement to check the influx of criminal herders into the country.
"Nomadic pastoralism is not sustainable anywhere in the world, we've been talking about the problem for long yet no one is talking about the solution. Livestock is a multi-million naira business and not endemic to any particular tribe as cow does not speak any of the local dialect in Nigeria we have to place less emphasis on tribalism, Lagos alone consumes at least 6000 cows per day, nothing prevents any Nigerian from running livestock business in any part of the country." He noted.