The Lagos State Coconut Development Agency (LASCODA) has commenced a total regeneration of one of its Seed Gardens in Badagry in an effort to reinvigorate the strength of the Coconut Seed Gardens to ensure a sustainable and steady supply of viable seedlings to Coconut Farmers in Nigeria,
In a release, the General Manager of the Agency, Dapo Olakulehin, said LASCODA was motivated in carrying out the painstaking activity to procure quality seedlings which constitute one of the critical inputs in Coconut Plantation establishment.
He noted that quality Seedlings as well as Seednuts have to be well catered for in the nursery as the Seednuts (which gives rise to seedling) must be obtained from certified source in order to ensure viable planting materials.
In his words, "The Badagry Coconut Seed Garden Regeneration Initiative will, among others, ensure the production of improved and viable foundation Seednuts, readjustment of the genetic pool of Coconut trees, guarrante continous availabilty of proven planting materials…
"Eliiminate bad, diseased and ineffective mother plants. Challenges associated with the genetical selinity will also be eliminated from the seed nuts and seedlings produced from the Seed Garden that are regularly regenerated.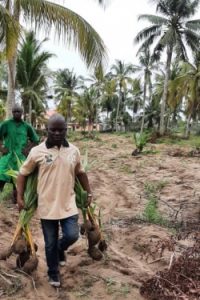 "During regeneration exercise, some expected activities that are performed include but are not limited to: land re-development, mapping, and replanting at the desired ratio of carefully selected Coconut cultivars from mother plants with standard vigour."
Olakulehin commended Governor of Lagos State, Babajide Sanwo-Olu for his positive disposition towards restoring the glory of Coconut in the State, especially by approving the regeneration of Coconut Seed Garden at Badagry.
He noted that this is the first time that the erstwhile 10-Hectare Seed Garden that has been reduced to 5 hectares due to encroachment is being regenerated since its establishment decades ago.
According to the LASCODA boss, prior to the ongoing intervention, the Seed Garden appeared to have been abandoned, adding that other rehabilitation activities, such as perimeter fencing of the entire 5-Hectare, are currently ongoing.
"With these activities the Seedling Production Capacity of the Seed Garden has increased to one million per production cycle." He noted.
Olakunlehin appealed to community members where the facility is located, Mowo/Pota/Athinporomeh, to desist further encroachment on the land as functional Seed Garden will impact positively on their economic activities in terms of employment opportunities and wealth creation.