National President of NACCIMA,  Saratu Iya-aliyu.
The National Association of Chambers of Commerce Industries Mines and Agriculture, NACCIMA, says it's export group provides opportunities for Small and medium enterprises, SMEs, to take advantage of international trade.
National President of NACCIMA,  Saratu Iya-aliyu, told new members of the NACCIMA Export Group, NEG, at a forum in Lagos to leverage on the opportunities provided by the group to enhance their business competitiveness in the international market.
She commended the inductees for for having the courage to join while reminding them of the group's objective to provide exporters with business opportunities within and outside the country.
"we are glad that new members chose to become a registered member of NEG, please be rest assured that you have made the right decision to become a member of one of the vibrant groups in NACCIMA". She said.
Iya-aliyu who was represented at the event by the Director-general of NACCIMA, Ayoola Olukanni, asked the new members to conform to international standards for their products to stand the chance of competing in the global market.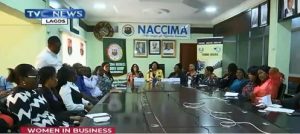 " for us to take advantage of the huge market out there, we have to learn, we have to have the capacity, that is why I think this programme is indeed very, very good". He said.
The new members of the group would benefit from partnership with the federal government through NACCIMA, seminars and workshops, organisation of and participation at trade fairs locally and internationally among other things.