-by our correspondent.
Former world heavyweight champion, Vladimir Klitschko, at the age of 44, is contemplating a return to the ring after losing to Anthony Joshua four years ago.
The Ukrainian boxer was a cynosure of all eyes in the heavyweight division during his active days as a professional, from 1996 to 2017 which saw him become world champion twice.
The dream of becoming the oldest world champion and breaking George Foreman's record at45 appears to have attracted Klitschko to a comeback although analysts say it would require an offer of £75million to tempt the Ukrainian back into the ring.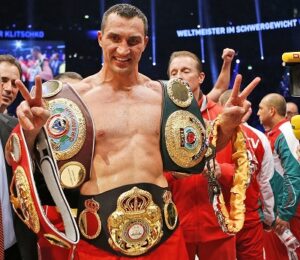 Vladimir Klitschko
"You know what people love seeing more than anything in the world? A COMEBACK! I want to see you all comeback strong in 2021!" Klitschko wrote on social media, Klitschko said:
Streaming service DAZN has reportedly offered Klitschko £35m to make a comeback, but his elder brother, Vitali said it would take a much bigger amount to tempt lure him out of retirement.