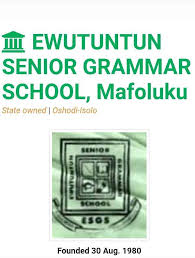 .. by Enitan Baker
A former American President, Ronald Reagan once said, "we will always remember, we will always be proud, we will always be prepared, so we will always be free."
This quote perhaps explains the the reasons behind the kind gesture of the Old Students  of Ewutuntun Grammar School, Mafoluku Oshodi, Lagos State, who recently donated 100 sets of chairs and desk to their alma mater.
It is very inspiring that despite the passage of time and and other limiting factors, the old students, some of who reside outside the country, have sacrificed so much to reunite and give back to the institution that prepared them for what they are today.
This gesture, will no doubt inspire the young ones to replicate the good deed in future for the benefit of the society.
The association's President, Adekunle Jaiyesinmi, acknowledged that the school contributed in no little way to what they have accomplished in life.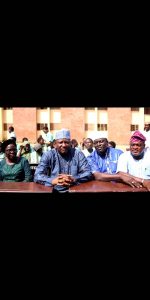 "We are glad to give back to the school that made us, we are happy that we are contributing our quota to the development of our alma mater." He said.
"The foundation of what we have become in life was laid at Ewutuntun Grammar School, Mafoluku Oshodi." He added.
Jaiyesinmi said the association is also planning to build a school Hall on the premises, if given a piece of land by the school authority.
He called on Nigerians to support the government in the development of education in the country.
The event was graced by Oshodi local government officials including, the Secretary, Biola Oladipupo who represented the Council Chairman, Idris Ariyo, and the supervisor for education, Ganiu Mejindade, among others.
Oladipupo underscored the importance of giving back to the society noting that this was in line with the local government's agenda.
One of the old students and the first Head Girl of the school, Ifeoma Nwosu, who traveled from London to attend the event, asked Nigerians abroad to remember their motherland by coming to invest in the country.
For her part, the founder of Enitan TV, commended the old students for their patriotism and sacrifice while describing their gesture as legendary.