The Food and Beverage Recycling Alliance (FBRA) in collaboration with the United Nations Industrial Development Organization (UNIDO) is creating awareness for recyclers and manufacturers of plastics in Nigeria.
The coalition, which is made up of both local and multinational companies, is implementing the extended producer responsibility in Nigeria, whereby manufacturers proactively manage their waste to ensure safety of the environment.
This was disclosed in the second edition of a recent seminar in Lagos, with the theme: 'Promoting Sustainable Plastic Value Chains Through Circular Economy Practices.' The maiden session took place in Abuja in March, this year.
A statement from FBRA signed by the Executive Secretary, Agharese Onaghise, says the project seeks to contribute to Nigeria's inclusive and sustainable industrial development through resource efficiency.
According to the statement, 10 selected organisations will be shortlisted for the implementation phase of the project in Lagos and Abuja.
The statement read in part, "Humans have become more mobile especially in urban areas, and this has contributed to the increased use of plastics on the go, which has in turn, increased plastic waste pollution.
"Lagos, as a coastline city, will continue to contribute to the disruption of the aquatic ecosystem if appropriate waste management practices are not employed.
"This is the reason FBRA, in partnership with UNIDO, conducted an awareness training for plastic value chain players in Lagos. The training focused on promoting circular economy principles and practices, while ensuring resource efficient production for plastic value chains in Nigeria."
The training had in attendance relevant stakeholders across the plastic value chain in Lagos and Ogun State.
In his remark, Oluyomi Banjo, National Programme Coordinator, UNIDO, spoke about the objectives and expected outcomes of the project, while Dr. Gaji Tajudeen, the Permanent Secretary, Lagos State Ministry of Environment and Water Resources, restated the commitment of the state in ensuring proper waste management and circularity within the sector.
For his part, Dr. Femi Idowu-Adegoke, President of Lagos Recyclers Association, commended the organizers for the initiative and reiterated the importance of circularity in Nigeria. Sandeep Chhatwal from Indorama, a member company of FBRA, gave the vote of thanks.
Also in attendance, were representatives from FBRA's member companies, plastic waste value chain players, representatives from UNIDO, the National Environmental Standards and Regulations Enforcement Agency (NESREA) and the Lagos State Ministry of Environment.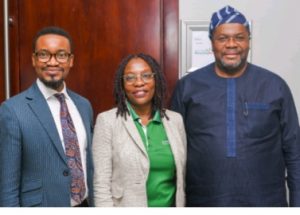 Some of the topics discussed during the technical sessions includ; Resource Efficiency and Cleaner Production and its Benefits, Circular Economy, and Plastic Packaging.