Following recent criticisms regarding France's unfair control of the economies of its former colonies in Africa, eight West African countries have summoned courage to dump the CFA Franc for the ECOWAS currency, ECO.
Ivory Coast, Mali, Niger, Benin, Burkina Faso, Guinea-Bissau, , Senegal and Togo, all former French colonies except Guinea Bissau, use the CFA Franc.
President of Ivory Coast, Alassane Ouattara, told visiting French President, Emmanuel Macron, in the country's capital Abidjan, that the bloc would no longer be tied to the Bank of France and the CFA Franc after they have all agreed to change to the Eco as their new currency.
French President, Emmanuel Macron and President of Ivory Coast, Alassane Ouattara
"We have agreed on three major changes; these include a change of name of the currency, stopping holding 50 per cent of the reserves in the French Treasury and the withdrawal of French governance in any aspect related to the currency." Ouattara said.
For many decades, the West African countries depended on the Bank of France, which held half of their currency's total reserves, for minting and conversion of CFA francs into euros to facilitate transactions within the zone.
The CFA franc, created in 1945, was initially pegged to the French franc and has been linked to the euro for over two decades.
Many critics consider this as French continued interference in the domestic economies of the affected countries even after they became independent.
Report says President Macron has approved the deal which took six months negotiations, hailing the Eco as a "historic reform that will see the light of day in 2020."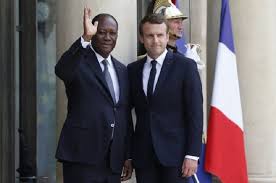 It is, however, left to be seen how the former colonialist, which is said to be hugely dependent on African countries for economic survival, would respond to the new changes.