-by our correspondent.
The abducted Kankara students in Katsina State have reportedly regained freedom courtesy of Nigerian troops who rescued the abducted students in Kankara, Katsina State. A inside source, said they were rescued between Katsina and Zamfara state borders.
According to the source, "at the moment, they are with the troops of 'Exercise Sahel Sanity' and are already moved to a more secured location for possible handover to the GOC 8 Division"
It would be recalled that over 300 students were abducted last Friday when gunmen invaded the school. Leader of Boko-Haram, Abubakar Shekau, had on Tuesday said his group was responsible for the attack.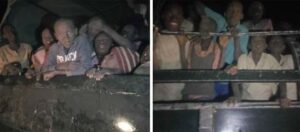 Released Kankara students
In a video released on Thursday by the insurgents, some of the boys, looking distraught, appealed to the government to cooperate with their abductors so that they can be freed.
"Please help us, tell the vigilantes and soldiers not to come around," one of the boys in the video said, adding "more than 500 of us are in the forest, close any form of school including Islamiyah, please send the army back they can't do anything to help us. Please sir, we need your assistance," the distraught boy said.
At the end of the video, a voice believed to be that of Shekau said, "he was doing Allah's work".